An attorney with decades of proven legal experience, an Iraq and military veteran, and a 1983 graduate of the University of Mississippi Law School, Brian Montague has established a well-respected law practice serving clients in two states.
Brian focuses on being responsive to client needs, with areas of concentration that include commercial and private real estate transactions, wills and estates, asset purchases and sales, corporate and LLC structuring, contracts, articles of condominium, and covenants and other governing documents for homeowner and condominium owner associations.  His background includes hundreds of court appearances, bench and jury trials, estate and probate work, real estate development, service to all varieties of businesses and individuals, local government entities, and contracts and transactions.  
Mr. Montague is a graduate of Vanderbilt University (BA '81), University of Mississippi Law School (JD '83), the Judge Advocate General's School (JA Officer Basic and Advanced Courses, 1992 and 1994), and the Command and General Staff College (Command and General Staff Officer Course, 2001). 
Mr. Montague is admitted to practice in Florida and Mississippi, including before all Florida state courts, the Mississippi Supreme Court, the United States District Courts for the Northern and Southern Districts of Mississippi, United States Court of Appeals for the Fifth Circuit, the United States Court of Military Appeals, the Mississippi Court of Military Appeals, the District of Columbia Court of Appeals, and the United States District Court for the Western District of Louisiana (pro hac, 1991).
Professional memberships include membership in the Florida Bar Association, Mississippi Bar Association, the American Bar Association, Bar Association of the Fifth Circuit Court of Appeals and District of Columbia Bar Association.  
Writings include a March 2020 piece entitled, "Report on CARES Act Provisions Affecting Small Businesses and Their Workers," a paper presented in 2011 to a Continuing Legal Education Event in Mississippi on Intestate Estate Administration in Mississippi, a presentation to Iraqi tribal leaders in 2009 on the Iraq-US Security Agreement, a paper presented in 2008 to the Hattiesburg Home and Products Show and in 2007 to South Mississippi homebuilders seeking certified builder status entitled Residential Construction Defect Claims and Litigation, a Mississippi Law Journal case note on exculpatory clauses in residential leases, published at 52 Miss. L. J. 913 (1982), a 2003 paper presented to the Hattiesburg Kiwanis Club on the Mississippi Civil Justice Reform Act of 2002, entitled One Year Later:  A Look at Civil Justice Reform in Mississippi, and a joint effort with the Office of the First U.S. Army Staff Judge Advocate to publish locally at MOB Center Shelby a Commander's Legal Guide, a thirty-four page reference for military commanders on non-judicial punishment of soldiers, trial by courts-martial, obtaining and preserving evidence, pretrial restraint and confinement, administrative law, Lautenberg Amendment, standards of conduct, UCMJ Article 31 (Fifth Amendment) rights, and other matters of military law.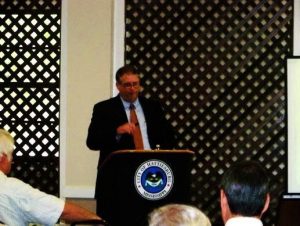 Mr. Montague has also authored and presented lectures and briefings to thousands of commanders and soldiers as part of their training prior to deployment to Iraq and Afghanistan on these subjects:  Law of War (including Geneva Convention, humanitarian treatment of combatants and non-combatants, and rules for use of force), the Uniformed Services Employment and Re-Employment Rights Act (USERRA), Service members' Civil Relief Act (SCRA), fraternization, government ethics rules, and wills and powers of attorney.